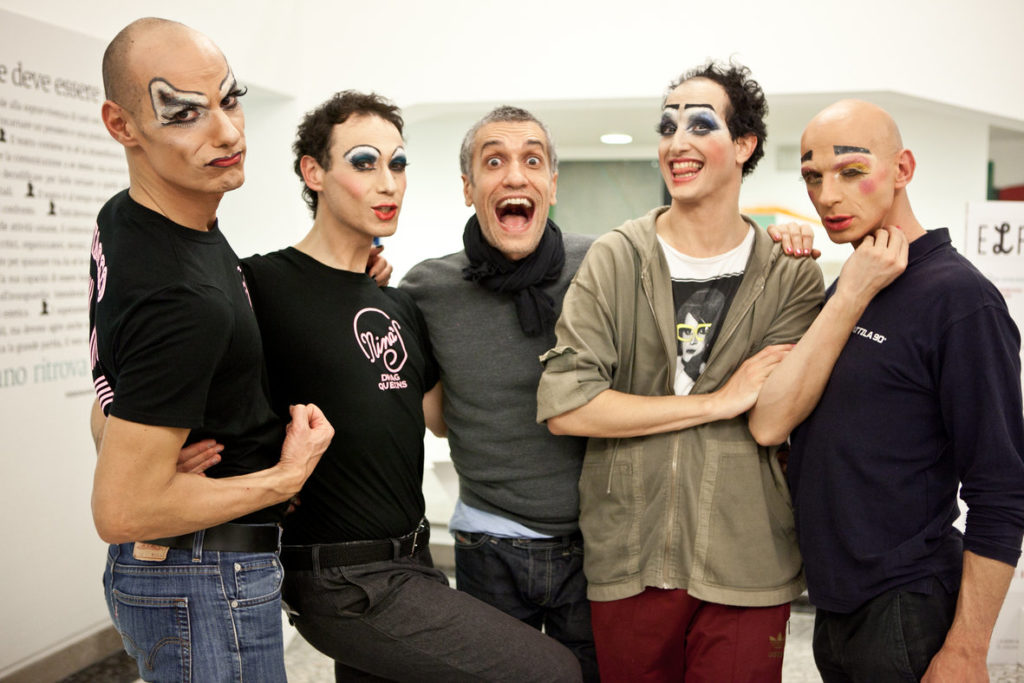 BIO
Nina's Drag Queens is a group of actors and dancers. Its research explores drag queen aesthetics and characters, combined with regular theatre. Founded in 2007 in Milan by Fabio Chiesa, it developed its style under the artistic direction of Francesco Micheli. The first experiment of an en travesti version of a theatre classic dates back to 2012 with Cherry Garden, from Chekhov's masterpiece, followed by DragPennyOpera, a rewrite of Gay's The Beggar's Opera, and Alma_a human voice, a brand new play inspired by Cocteau's works.
POETICS
The shows of Nina's Drag Queens blend songs, movies extracts and plays performed in lip-sync, live acting and choreographies. It's a theatre that re-cycles existing material and develops it in a new context, which combines different genres, with influences of cinema, pop culture and opera.
Drag queens often perform as solo artists or as anchorwomen and entertainers during cabaret and variety shows. Nina's Drag Queens instead have always worked as a group, in a theatrical perspective. Their work resembles the clown's: they wear a costume, a mask and sometimes border on ridiculous. As for the real clown, though, a drag queen, as the group perceives it, not only makes the audience laugh, but also moves it.